Thanksgiving is the best time of year for showing your friends and family you appreciate them. Celebrating with loved ones near and far is the best part of the holidays, and the best way to celebrate is with a heartfelt gift. Give a gift this holiday to a friend or family member to show you are thankful for them!
We found the best gifts to give this season for friends, family and loved ones. Keep reading for our top choices!

The Best Thanksgiving Gifts
Something Special
Whether you're visiting friends or family in person or sending love from afar, a heartfelt gift sets your Thanksgiving apart as a special celebration. A festive bouquet or handmade gift like all the ingredients for a personalized recipe will show your loved ones that you are thinking of them.
For something extra special, include a handwritten note with a beautiful gift like a diamond watch. A diamond watch like one from rorolove will make your loved one's holiday shine. A visit to family, a beautiful diamond watch and a special handwritten card well turn this Thanksgiving into one family and friends will never forget.
Something Timeless
Tell that someone special that you're thankful for them with a timeless gift your loved one will continue to wear year after year. A classic gift that goes with everything is always appropriate, no matter the occasion. rorolove diamond watches feature real diamonds and a variety of iconic styles that everyone will love. Our women's diamond watches are a perfect gift for your wife, partner, or special someone.  
rorolove's designs are a perfectly balanced combination of minimalistic design and diamond with K-gold jewelry. At rorolove, we believe in elegant design as the highest expression of love and loyalty.
Something Romantic
Thanksgiving can be a romantic holiday for you and your loved ones to spend quality time together with family. At rorolove, believe in this spirit of "one life, one love", and we design our gifts to communicate that same loyal love to your friends, family and loved ones.  
rorolove diamond watches were created from the spirit of romance. Founder Roey Jones was on a trip to Chile in 2017 and was inspired to create beautiful diamond watches by the flamingos she came upon on her travels. The Chilean locals told Roey that flamingos only have one partner in their lifetime, so Roey designed the logo for rorolove as a flamingo in honor of that romantic story.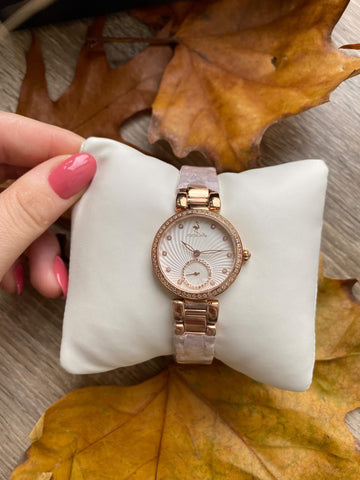 Thanksgiving Gifts for Her
rorolove offers perfect options for any occasion for your wife, girlfriend or partner. Click here to learn more about rorolove, our story and our beautiful gifts for her this season!